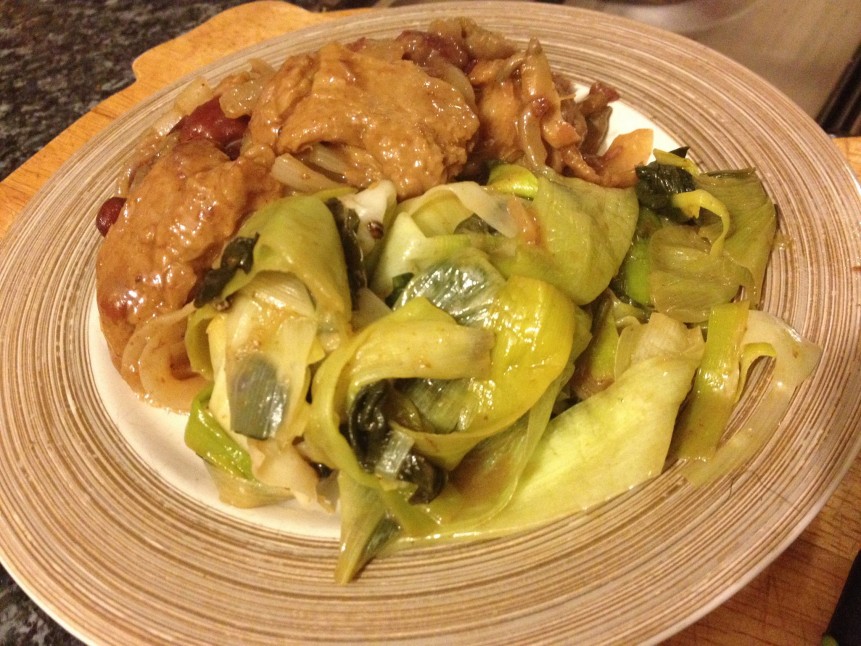 VEGAN KITCHEN – CHINESE NEW YEAR "MOCK DUCK" 新年好
And so It happened on Valentines day that the FISHINABOX Gang found themselves wandering around downtown Chinatown and it's environs taking on the sights at the Chinese New Year Parade this month. New Year actually fell on the 8th but the celebrations for the rest of London ran on the 14th…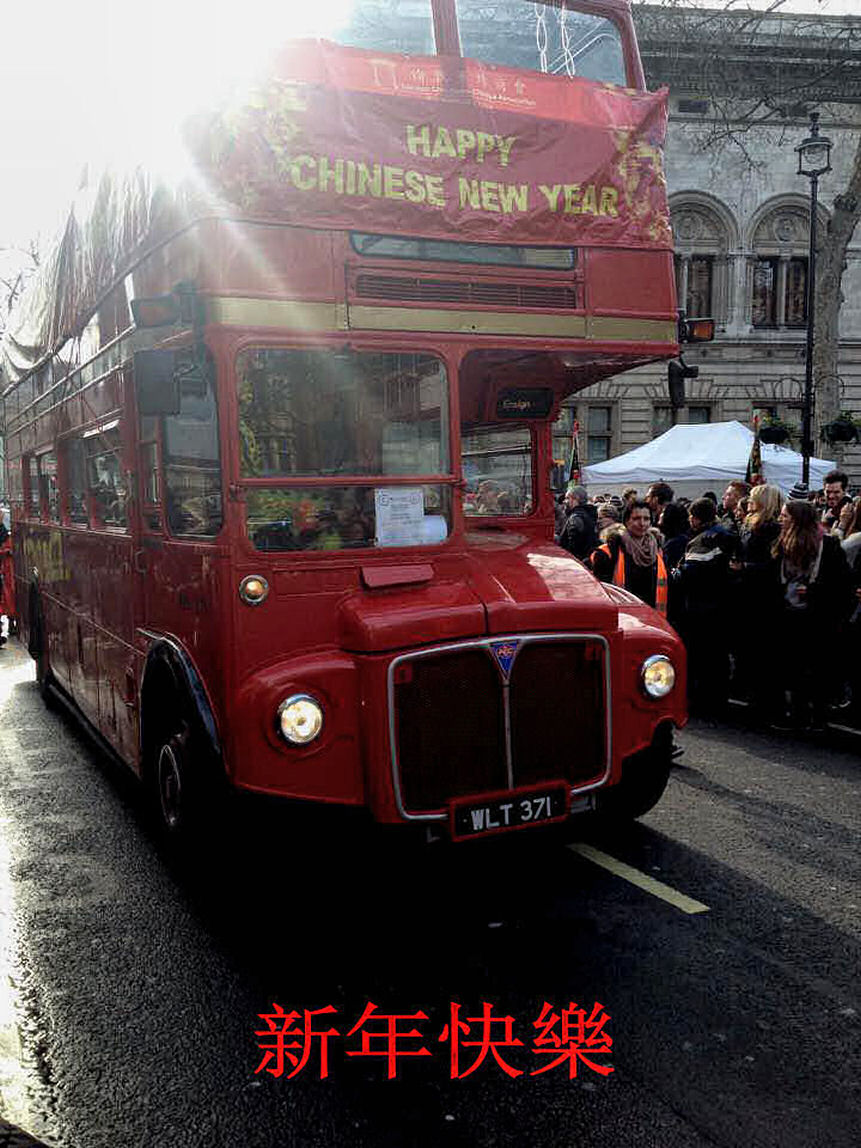 As we ambled around the crowds joyfully throwing bangers and snappers a sense of melancholy came over me like a cold icy finger as we happened upon one of those gloried mortuaries known as a duck shop.
A woeful sight indeed if ever there was one. Rows and Rows of beheaded, eviscerated and plucked little ducks on spits, all machinally slowly turning like unfortunate victims of the heinous "cook em alive" Titan; King Hyperion……..
As the sadness washed over me, my inner Buddha offered me the opportunity to show how nice a duck dish can actually be when there no duck in it… So without further ado i offloaded the last of our "Go Vegan" stickers on each and every one who showed an interest in taking one and made haste from those pits of decay to put mind to frying pan and to come up with the "Mock Duck Meal".
Yes the Mock Duck Meal , not some martial arts movie cast off "shitting duck crouching chef " special, this one is torture free and basically came out of the contents of the back of the cupboard. So lets get stuffed with fake, and not fucked, duck and you will see how perfect a meal can be without a corpse sleeping in the sauce begging for its soul to be set free……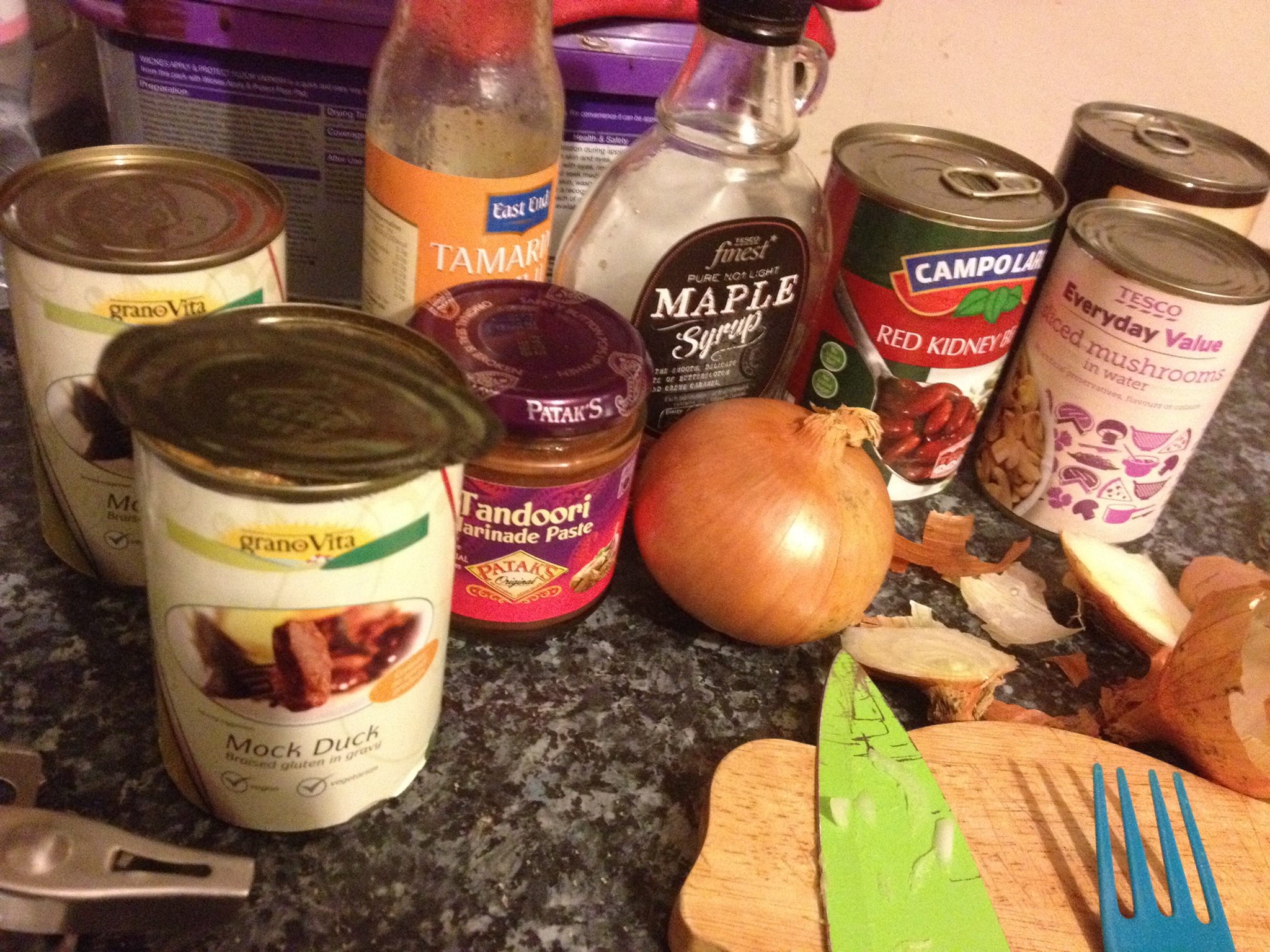 Get your ingredients together in the pan and pour off the mock duck sauce and mix it with the bean juice on one side (we will come back to that later) ..
Oh almost forgot (again) the ingredients / recipe list……it went a little something like this….
2 onions / 2 tsp tandoori paste / 1 tin mushrooms / 1 tin red kidney beans drained /dash maple syrup / 6 tbsp imli (tamarind sauce) / 2 tins mock duck (drain juice to one side) / salt to season / reduce until the sauce begins to thicken and caramelize…..
Then cook up the Vegetable side dish…
Remember that grubby old tin of sauce drainings you put on the side ? Well let's go get it right now to do the side dish.
Grab that left over sauce from mock duck / tandoori spice mix powder 3 tbsp / hemp seeds 1/2 cup / spinach  / four leeks sliced down the middle and separated out / 1 apple chopped small / 2 tsp maple syrup
Fry the hemp seeds and add the spice mix….
Start working in the spinach then the leeks, lift and turn, lift and turn until completely softened and with a lattice like appearance
and then bring both together and serve for the most amazing mock duck sensory taste fuck ever. Some people in London still amazingly thinks it's OK in this day and age to pluck a duck but that's just NOT how we do things at the FISHINABOX….
So there you have it ! "Mock Duck Phooey" that's all there is too it !… ENJOY dear Kitchen Cadets and GO VEGAN !