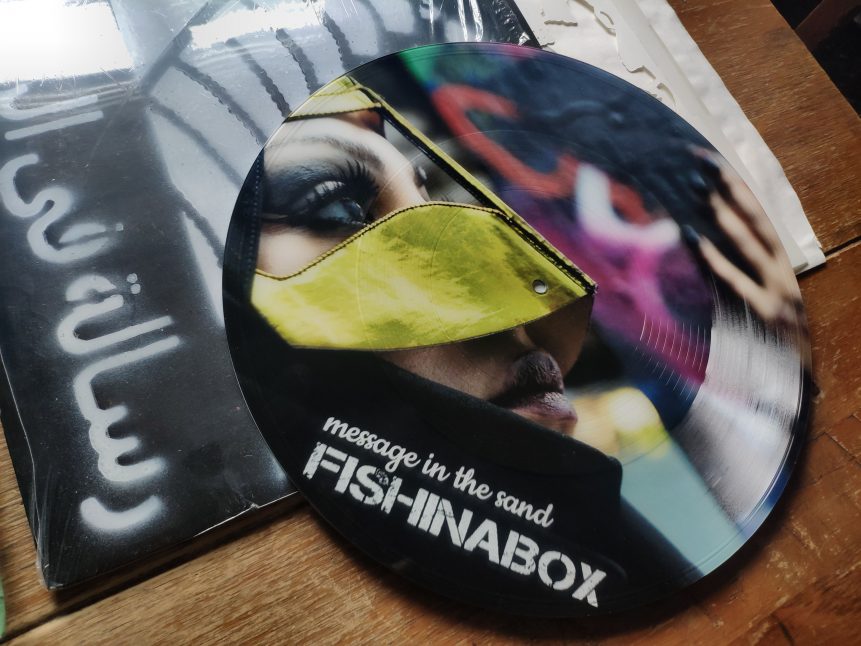 FISHINABOX presents MESSAGE IN THE SAND double vinyl picture disc SYRIA10 YEARS ON
To raise awareness once again for Syria 10 years of conflict, FISHINABOX has rolled out a double vinyl picture disc release of MESSAGE IN THE SAND. The discs are pressed in heavy 180g vinyl record for strength and durability to last longer and resist warping and breakage.
MESSAGE IN THE SAND STORYBOARD:
The Album follows the journey of refugees out of war torn Syria into the border region camps and finally passing into Iran before resettlement as part of the refugee relief program. Based on and around real story's and events the Album aims to raise awareness largely ignored and taboo subject of the plight of Refugees. While all Media focuses on the Political Religious Sectarian disputes in the conflict Message in the Sand focuses on the flight, traffic and journey of the victims of war, the people. both in the War Zone through to the Camps, and finally to the current Journey's end, (re-housed overseas)
The story of the victims of War is a constant global issue. The album could have been focused on any number of conflicts, Chechnya or Yugoslavia, or Rwanda and many many other places. It has happened in history time and time again,. Syria is currently the battleground of warlords and power seekers and there story commands the Media. It is for this reason that the Story centers on Syria's refugees, the silenced ones, the discarded, the ignored.
This Album is not an attempt to judge, take sides, claim right and wrong, be Political in anyway.
The unfortunate truth for the Refugee is that often there is as much danger in fleeing a war as in being a victim of the conflict on the field. Music is the universal language that all people speak and it is this hope that the message in the sand will be carried forward to all.
As well as featuring stunning album art on the picture discs, the release comes in blank black or white double record sleeve with stencils to spray paint the cover. The aim of providing stenciling is to engage and invite those who own a copy of the release to raise awareness of the issues by using the stencils for street graffiti.
The MESSAGE IN THE SAND stencils are produced in a durable, flexible re-usable 190 micron polyester film in order to achieve a decorative graphic high stencil.
Want to know more about what's going on in Syria, who you can support and how ? then check these links:
Syria: 10 years of conflict – GOAL Global
syria10_time_to_look_ahead_0.pdf (accioncontraelhambre.org)
Take a look at the lyric and story board, have a listen here:
رسالة في الرمال Message in the Sand – SYRIA CONFLICT – FISHINABOX RECORDS
Numbers are limited so if you wan to get a copy inbox us asap for orders in the comments or via twitter @Fishinapot
In a world where we are increasingly losing our right to protest, raise awareness and use of voices against in justice, and on discussing the format of the release between us, I finish with Penny Rimbaud's quote on the project: "Don't say it, just SPRAY it."