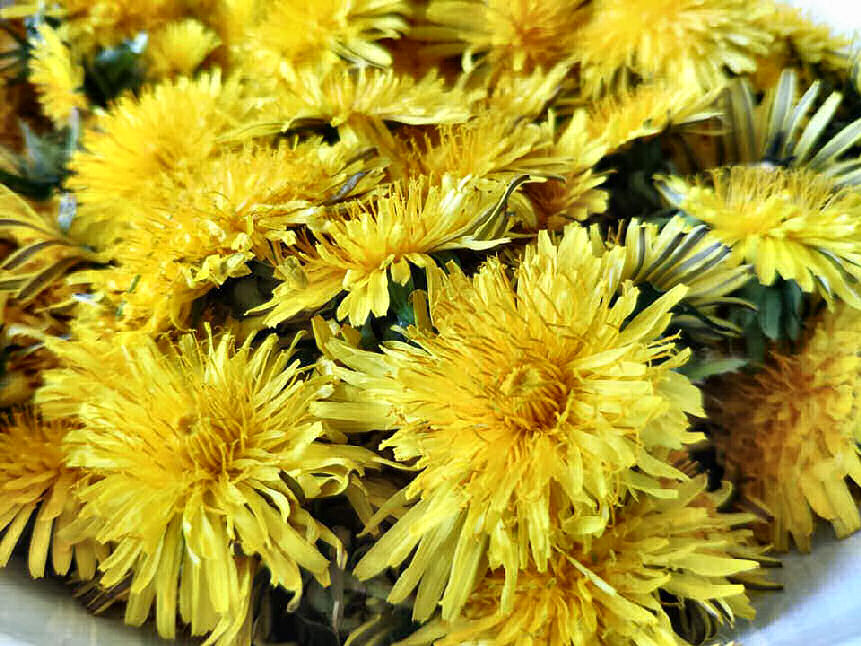 VEGAN KITCHEN – Dandelion HONEY & TOFFEE – LOCK DOWN SPECIAL
Foraging and home growing networks have exploded all over the UK since the Coronavirus Lock down. top of the list in the headline must try go to's is Dandelion Honey (miel de pissenlit) and its spin off's, Dandelion root, dandelion tea, dandelion jam (camaillotte) dandelion toffee and even cough syrup.
Dandelion Honey is another great Vegan alternative to Honey, and properly done has a negligible environmental impact. Other great things about Dandelion's are that hopefully they will impact business away from Bee exploitation and slavery.
If you don't know about the issue around "Save the bees" / beeswax and bee Honey check out this link here: https://www.fishinaboxrecords.com/no-money-no-honey-the-supersize-me-bee-project-in-every-store-near-you/
We took a deep dive into the good and bad, the pro's and cons of Vegan Dandelion Honey:
The main area of concern that was being aired was to NOT harvest the dandelions as they were food for bees to make honey for themselves and therefore still part of the problem. we took a look..
Our steps to manage this concern:
For the dandelions that we harvested, we identified council roadside verges and edge ways that were thick with dandelion though scheduled for cutting so the dandelions were being taken anyway, we then harvested in these areas the day before cutting.
If you can't check this with your local council, or, are not living in a suburban area that has council management the next step is to apply a 1/3 harvesting rule. Only take 1/3 of the dandelion heads in any specific area to ensure there are sufficient supply for insects or all shapes and sizes.
In any area where there are dandelions, some will be ready for seeding, ensure you blow all seed heads in the immediate area where you are harvesting to boost flower numbers.
When you have taken the heads, lay them out to allow any insects to crawl out if any. In our batch of 200+ heads we had two black ants who we returned to the dandelion patch where we harvested the flowers from.
Dandelions are pointed out in most circles of thinking, though not all, as the first food for bees in February so delay your dandelion honey making until end of March April when fruit tress are in bloom and other flowers are available for the bees.
further argument on Bees / Dandelions here: https://www.gardenmyths.com/dandelions-important-bees/?fbclid=IwAR3Gf-gkUYtD25WmQwEafJqwEYiLAJRKP_-3MRYt4J0Qiqa5TsP1gvlyEsI
Some studies actually push to harvest as many heads as possible from March on as they point out behavioral patterns around Bees change with dandelions, if there are dandelions the bees ignore flower and fruit blossom and focus on dandelions. in this argument the recommendation is to seed wild flowers early in the area and harvest up and remove as many dandelion as possible, basically the point is ensure you leave blossom food and flower behind you.
Either way a responsible harvesting rule leaves nature to work out the rest. A pot of Dandelion Honey takes 100 head of flowers, two hundred head is a bowlful and two jars lasts months so your harvest rate is very low overall.
The other main area of concern was around the amount of sugar involved in making flower honey:
It is indeed true, recipes are looking at up to 5 and in some even 7 bags of sugar to make a couple of jars of flower honey which though is ethical in the sense that no animals are factory farmed for it, it is a bit of a health nightmare and on a par with golden syrup .
White granulated sugar is what keeps the dandelion honey looking like "Bee" Honey. Messing with the sugar changes the colour of the Honey, and to an extent the taste. We just couldn't do it to our bodies on a full sugar hit.
To get a healthier more "bee honey" like flower honey we looked at sugar alternatives and settled on Organic Coconut Sugar, its a Lidl staple in the baking section so easy to find and has, like Bee Honey, a lower glycemic index coupled with lower amounts of fructose making coconut sugar a better alternative to granulated white table sugar.
Regular table sugar and synthetic high-fructose corn syrup don't contain any vital nutrients and therefore supply "empty" calories. whereas coconut sugar retains, in part, the nutrients found in the coconut palm most notable of these are being iron, zinc, calcium and potassium, along with some short-chain fatty acids like polyphenols and antioxidants and  a fiber called inulin, which slows glucose absorption and explains why coconut sugar has a lower glycemic index than regular table sugar.
Coconut Sugar – What is and where does it come from ? it is made using a natural 2-step process: A cut is made on the flower of the coconut palm and the liquid sap is collected into containers. Then the sap is placed under heat until most of the water has evaporated leaving a brown and granulated product. Its color is similar to that of raw sugar, but the particle size is typically smaller or more variable. Coconut sugar is the dehydrated sap of the coconut palm.
Using Coconut sugar looses that golden Bee Honey colour and gives a very dark treacle colour to the flower honey. In the end its all down to personal taste, if you ate someone who eats branded sweets such as Nestle , Cadbury's, sugar syrups or shop bought desserts etc then amazingly the amount of white sugar used in the recipe is nothing more than these branded products. If you, like us don't buy into branded junk food then use a fruit sugar or even fruit pectin's etc and take some of the "load" off the final product though regardless of all that remember that whether it is unethical Bee Honey or the ethical other alternatives, such as Syrup, Coconut sugar, whatever  !!! it is ALL still Sugar people no matter what option you take.!!!
Want to know more about types of sugar ?
Click on the link here: https://www.youtube.com/watch?v=dBnniua6-oM
anyway all that being done and dusted,. lets get on with making this dandelion flower honey stuff:
STAGE ONE:
This is the base recipe we used and then adapted,. this will give you the golden "Bee" style Dandelion Honey
https://plantepusherne.dk/the-best-vegan-dandelion-honey-tastes-like-honey/?fbclid=IwAR2xFWW5xTEBjSKoGI9_SBt6z0VBOGgK9aBwZC-uwdEnnwNiif5dsEB3KKc
The recipe is for 100 head / 1 jar.  As we used 200+ dandelions that we picked from road sidings  (before the local council came the next day to mow down!) and some from our own area using the 1/3 harvesting rule.
We doubled the quantities in the recipe with a couple of of replacements, firstly, thanks to lock down, we were unable to source fresh lemons (WTF ! right)  and so went with the bottled squeezed lemon juice, and second, 7 cups of white processed sugar seemed excessive for us so we went with the coconut nectar sugar instead.
Other than that we followed the recipe and tips pretty much as is..
STAGE TWO:
Add the sugar and start the extremely long low heat simmer, this was the deciding factor in getting the texture of the flower honey right. too much heat it burns, too little it has too much water..etc
The colour changes at this point depending on what sugar you use.
NOTEWORTHY:
The 'simmer for several hours' is a bit unclear but after adding the sugar in the second part of the recipe we simmered for approx 3 hours then left to cool over night.
In the morning the mixture was still not thick enough so we popped it back on the hob for another hour which resulted in a good honey texture but after we cooled a bit on a spoon it set solid so we added some boiling water and stirred it in until we got the consistency we were after.
The coconut sugar took the colour of the flower water from a beautiful honey yellow colour to a dark treacle colour so you should expect a much more yellow honey if you are using only white sugar.
All in all we are happy with it and oh my is it amazeballs on toast!! 😋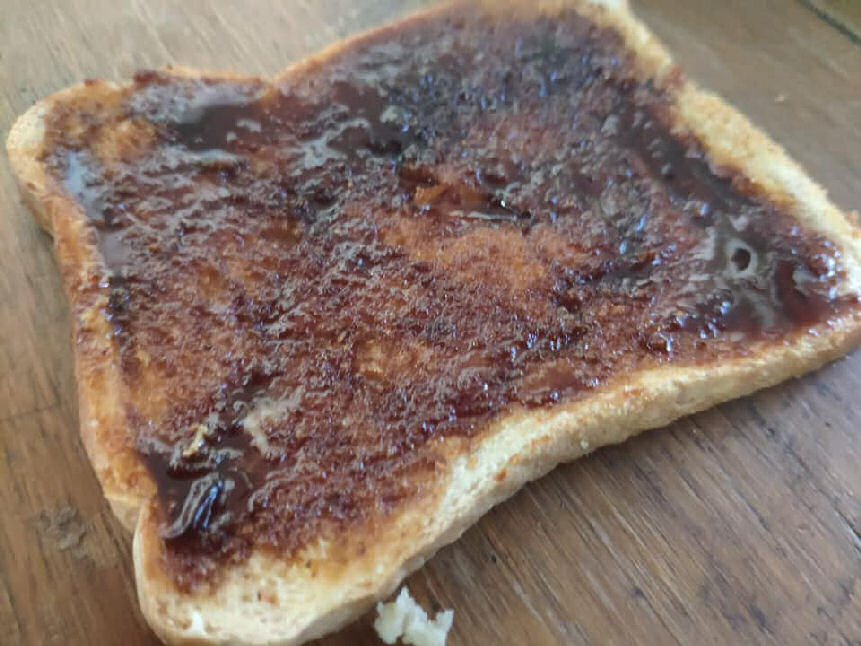 Once the Dandelion Honey was all transferred into jars we had some left overs which went back on the heat to make the toffee for a coupe of toffee apples.
making the toffee apples was extremely trick and messy, you need a few things… a chop stick, an apple, the toffee and some clingfilm. First we tried to do it by pouring out the toffee, off the boil into cling film bags around the apples…
failed.. lol
…next was to heat up the toffee until a bubbling black liquid, flip off the heat and tip the pan , as the toffee solidified we rolled the apple on the chop stick in the mixture, and, as its cooled it stuck evenly to the body of the apple then stand in cling film and wrap.
This worked out perfectly