VEGAN KITCHEN – I think i'm cooking Japanese, I think i'm cooking Japanese I really think so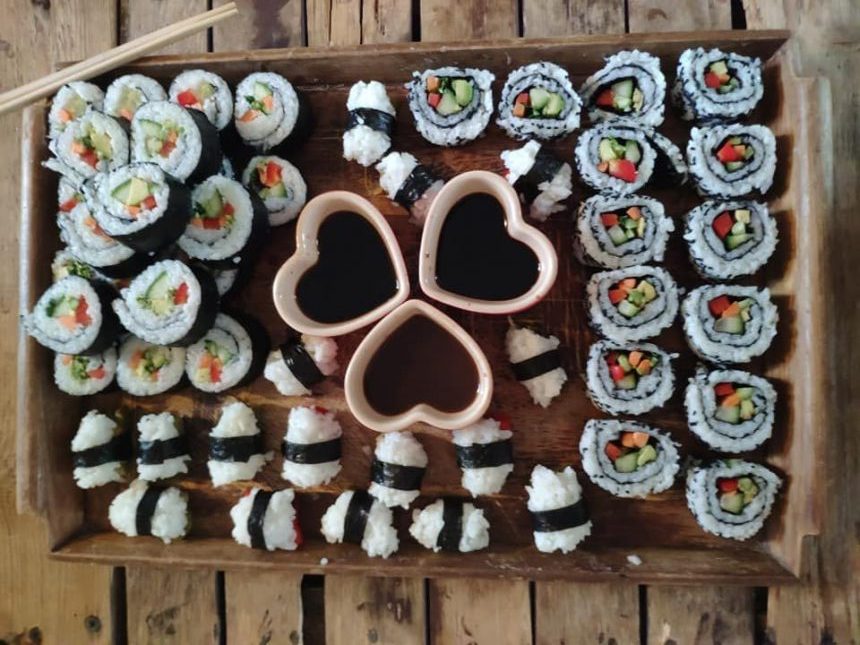 I'm cooking Japanese, I think I'm cooking Japanese , I really think so…
so here we are, one of those rainy nights, kids and dogs sprawled out all over the place and kids asking when dinner is , when dinner is , when dinner is… A Jumanji movie is standing in as a surrogate parent whilst we whip up a little Japaneses special…
Fancied a Wagamamas, but alas they don't deliver and hey who can afford it anyway so a good old rummage in the magic cupboard provides all the ingredients for a kick-ass Japanese meal…
Its more than Sushi , you see…
First up is the rice,.
We Recommend you use Sushi Rice or at least a risotto rice, after all you want it thick and you want it sticky.
Wash your rice 5 times until water runs clear then cover with water , a one inch top, heat and then put a lid on the pan. Switch off the gas and allows to steam for 15-20 minutes under its own heat..
For rolling you need a rolling mat and also Nori sheets, you need the right kind of seaweed so pick up a pack or Sushi Nori Sheets. Nice and thick and perfect for rolling sushi, you can also use thinner snacking seaweed sheets if you dont have the sushi sheets or are using up whatever in the back of your cupboard for ingredients, though you will have to work a bit harder to get it looking crisp and neat if you use the latter.
By now your sushi rice should be nice and cool, if not , go have a cup of tea and read a book for a bit until its cooled off then when ready cover your Nori sheet with a layer of your sushi rice and flatten it evenly and gently with the back of a large plastic paddle or wooden spoon.
Next up sprinkle black sesame seeds as evenly as possible over the sushi rice and layer your main vegan filler ingredients across one length of the Nori sheet in a straight line, usually towards the top of the roll so that it centers in the fold as you turn it over (as shown below) and slice the roll at two centimetre lengths with a super sharp mother fucker of a killer knife so it slices straight through without losing the shape.
Avocado, Cucumbers, Pickled Ginger (Sushi Ginger) , Carrots and even broccolli are great filler ingredients.
Variations with Full Nori Sheet….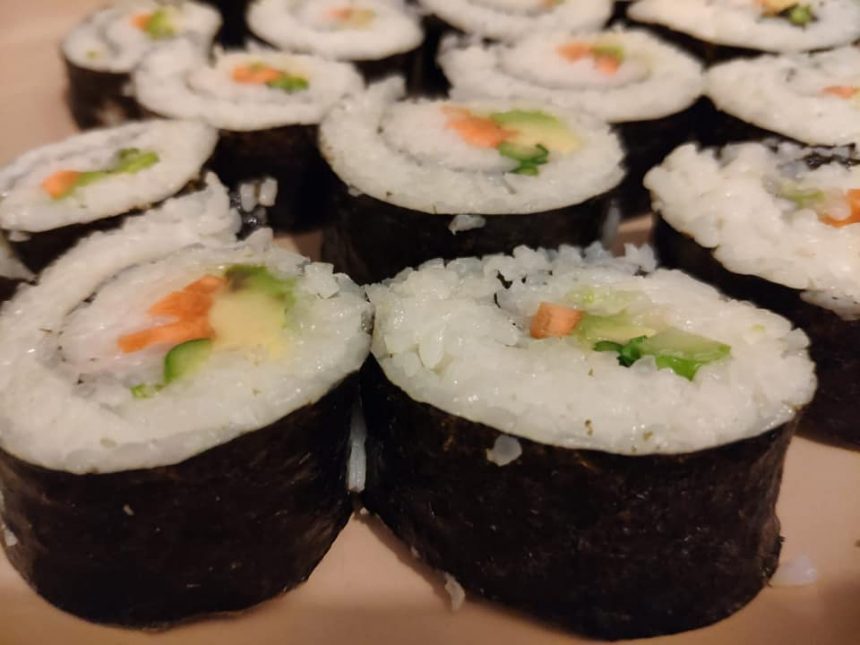 All Done… Now for the dips, Soy sauce, Tamari Sauce and Teriyaki Sauce make great dips, and if you have time make up the spicy sushi sauce by mixing Veganaise, Sriracha sauce, lemon juice and sesame oil.
The rest is all in the presentation,. lay out the sushi and dips and grab those chop sticks.
Once you have stuffed your self with Sushi its time to get up and go make Ramen. Should have done that before you sat down with the sushi right ? lol
Ramen, a healthy filling Japanese soup,. lots of ingredients, go into this in a two stage process, so make sure you have everything on the list below before you get started
6 garlic cloves
Pickled sushi ginger, couple of good spoons
3 tbsp organic miso paste
1 tbsp neri goma (white sesame paste) or tahini
Half box button mushrooms split into 2 for section 1 and 2
1 large teaspoon of vegan stock
1tbsp of pickled lemon grass
6 tbsp soy sauce
2 packs of firm tofu, cut into chunky cubes
2 tbsp cornflour ground rice powder
2 packs udin noodles
2 head of pak choi deleafed and split down middle
spring onions, only the green sections
A couple of scrunched up snacking seaweed nori sheets
Bag of beansprouts
Carrot sliced thin
A bit of salt
Stage 1
pan 1 _ chop the garlic, then put it in a saucepan with the ginger, miso, tahini, mushrooms, stock and soy. Pan fry it all for 5 mins. Strain off into a bowl and clean the pan for the noodles
Frying Pan – fry the chunks of tofu with ground rice powder until golden brown, texture like sun
oops oh yes forgot to say you need ground rice flour to get the crispy breadcrumb type look on the tofu..
Stage 2
Boil the noodles 5 mins, then drain and add new water, add all the veg and add the pan 1 cooked mix. Thrown in a ginger top up , the Lemon grass a spoon and some mayo curry spice, simmer for ten mins and done
don't thrown the stump of the Pak Choi out, leave a couple of very small leaves and put in a rumkin with water and the leaves will grow through again and can be used for another meal later on
That's all there is to it,. Eat lots and let it dribble all down your beard or chest or whatever