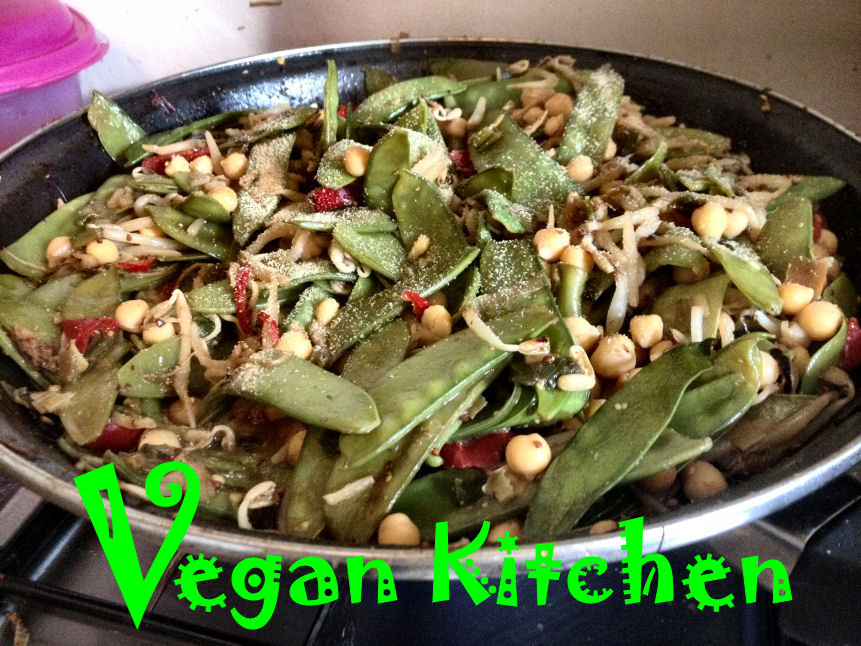 VEGAN KITCHEN – 2 Quick & Easy Meal Planners: Chick Pea Stir Fry / Okra Toast Toppers
Back by popular demand, more super simple day meal planners to spice up your vegan life. This post picks up two easy cooks, a Mangetout Chick Pea stir fry and the Okra Toast Topper.
The first up is the Mangetout Chick Pea stir fry, this was actually just a Mangetout stir fry, until the "baking team" needed a bucket load of aquafaba for Banana Bread and opened a couple of chick Pea tins. Noting the stir fry was a little light on protein, in went the chick peas.
Ingredients: Here we go…. Spring Onions (two bunches cut), Onions (1), Chilli peppers (5), Fresno Peppers (3-4), Mangetout (a good couple of handfuls), bean shoots washed (1 bag), chick peas, (two tins drained), pine nuts (big handful), cranberries, (big handful) maple syrup (how sweet is your tooth ?), Chinese 5 spice (couple of tea spoons) apple (1 chopped), ginger (2 – 3 inches grated), lime pickle (3 teaspoons), garlic salt (go heavy on the garlic salt), soy sauce .
Ok so let's get cooking,. so for us it went a little like this….
Last of all, salt with garlic salt , toss, then serve and that's all there is to it ! Takes around 8 – 12 minutes end to end to produce this meal and takes about 3 minutes to eat it.. that's if you did it right .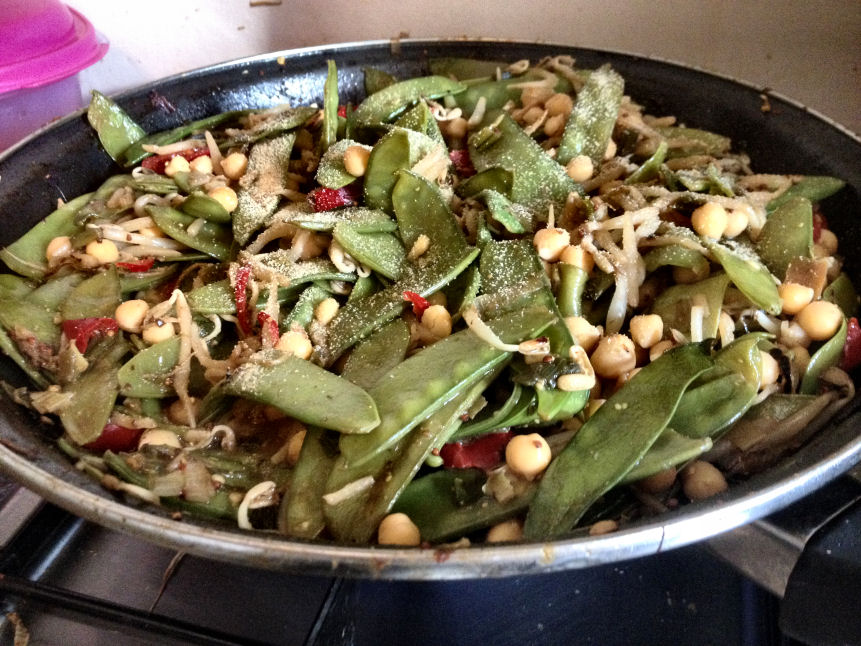 Next up is the Okra Toast Topper. If you thought the Stir Fry was quick to cook up, this one is just as quick. There are a lot of cheats in this one. We short cut by using tinned okra as we had one over, and just threw it together.  It went a little like this.
Ingredients: Onions, fennel (had some left over) two lettuces (finely chopped), YES lettuces, for real !, Dijon wholegrain mustard (one tea spoon), green bell pepper, one huge tomato, tin of mixed spicy beans, tamarind sweet sauce (2 tablespoons), then add the okra, you can use tinned if cannot find any fresh okra.
cook it down until it has reduced and get your toast grilled, add the okra topper and service with a side of tomatoes. That's all there is to it !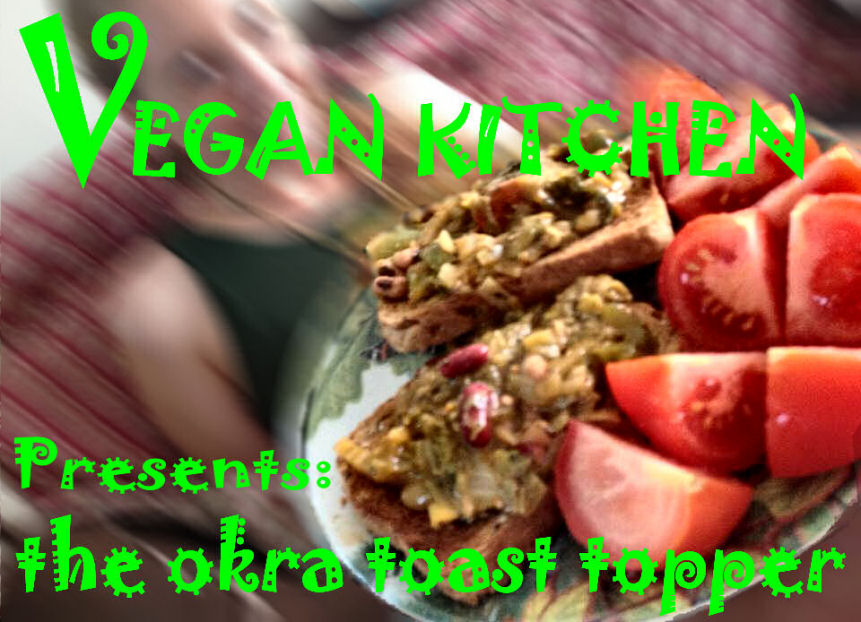 Whats so great about Okra ? Find out More, most of the health benefits of Okra are more relevant to Carnists (lean heavily on Meat and Dairy) and Vegetarians (lean heavily on Dairy), which is yet another reminder that a healthy diet comes from a 100% COMPLETELY animal agriculture free lifestyle, saying that there are still great benefits for Vegans in alleviating Ashtma, boosting the immune system and bouncing like a unicorn vomiting rainbows through any pregnancy. (Okra's high levels of vitamin A, B vitamins (B1, B2, B6), and vitamin C, and traces of zinc and calcium, make it an ideal vegetable to eat during pregnancy). Okra also serves as superb supplement for fiber and folic acid.
http://www.medicaldaily.com/what-okra-ladys-finger-and-6-benefits-adding-medicinal-vegetable-your-diet-350750
DISCLAIMER: Links to information on sites other than those operated by FISHINABOX RECORDS are for your convenience only and are not an endorsement or recommendation of those sites. FISHINABOX RECORDS does not control or provide any content or information at these sites, makes no representation or warranty of any kind with respect to these sites or their content, and does not maintain, operate, or take responsibility for information provided. FISHINABOX RECORDS does not endorse and is not responsible for the accuracy or reliability of such content or information and any use thereof is solely at the user's risk.