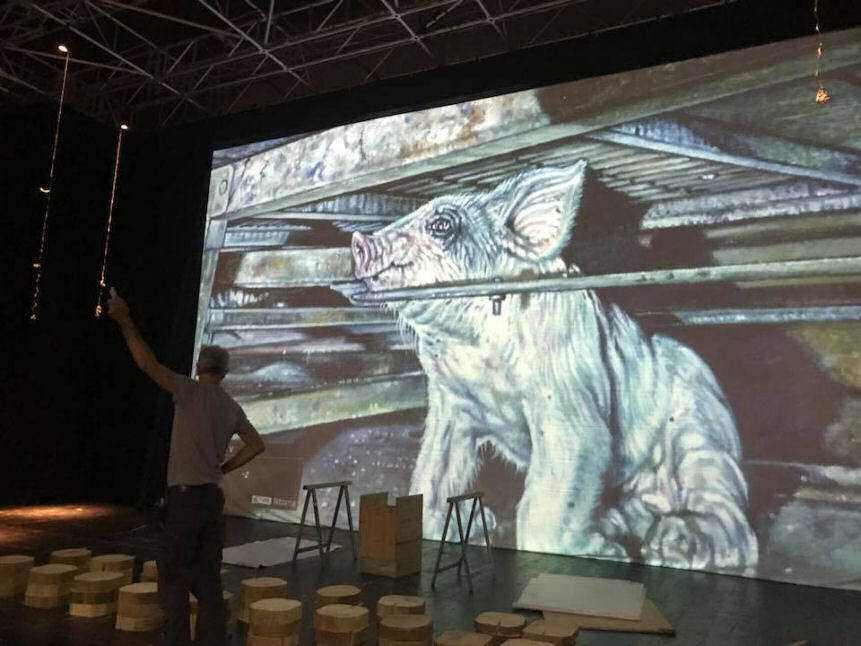 Philip McCulloch-Downs – Sagra del Seitan 2018 XI Edizione – BIG ART INTERNATIONAL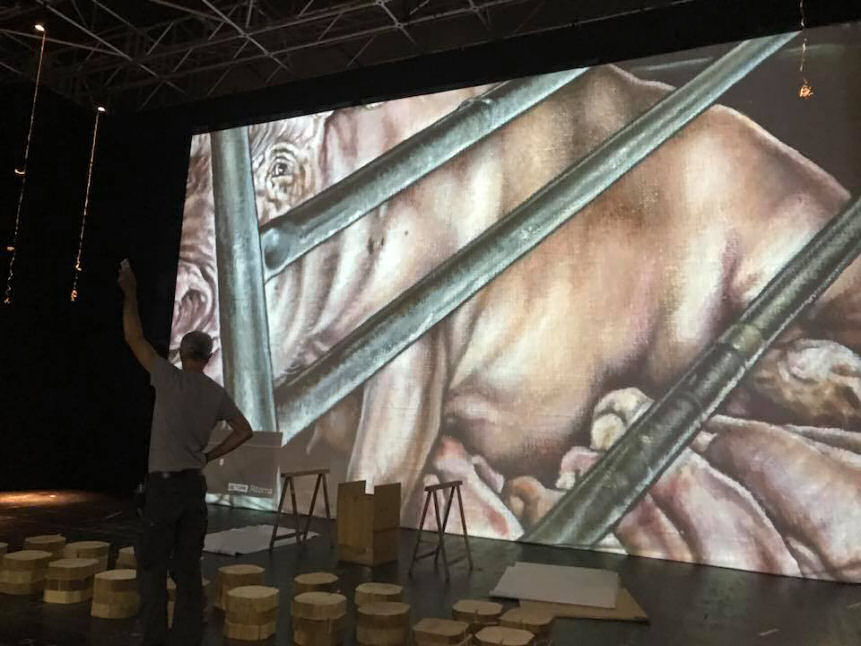 When we are talking BIG art, We are talking art  beamed onto a massive screen creating an immersive multimedia experience, exposing the 6,000+  attendees to the hidden victims of animal agriculture.
The BIG art show featured many Philip McCulloch-Downs' incredibly detailed and moving pieces,  two of the many pieces that were in the show are pictured in the above –  'The forgotten' and 'Motherhood'.
The event was extremely visually engaging centered by the immersive multimedia event called "Made for the Animals 2.0", with works by many vegan artists as well as Philip who  give voice to the animal debate.
The themes  of veganism and anti-speciesism were also supported by a rich cultural program packed with conferences and meetings.
When talking of the piece "the forgotten" Philip expressed "That one little life is now going to be alive and visible forever.  I'm so made up by this – it's very moving."
The Sagra del Seitan 2018 XI Edizione Vegan Festival ran in Florence, Italy Saturday September 22 and 23, at the OBI Hall in Florence.
In addition to the Sagra del Seitan, Philips schedule just gets busier and busier, He has been involved in the The Art of Compassion Project appearing in Beijing, Dublin,  Luxembourg and Florence!
Here is a look at The Art of Compassion Team at the International Animal Rights Conference in Luxembourg 6th – 9th September 2018.
Further information on the Art of Compassion:
https://www.facebook.com/artofcompassionproject/?__tn__=K-R&eid=ARBfIvCxKQCK3fw38ecF3CmX5GWZxJOpqFCuCoXpfN_Arx87b4yDEUWyce9nrjQqWasZ-L-bsSWyMrZV&fref=mentions
For World Farmed Animal Day, Philip and Queen V seamlessly combined their creative work in the video for "What Hell Is like". A day to feel proud to be associated with the activists of the world:
Those who speak up for the voiceless, against the vast, brutal farming corporations of the world.
Those who reveal hidden truths, to begin to change the majority opinion that meat and or dairy are essential to human life.
Those who do whatever they can to be compassionate – to all life, human and non-human.
"What hell is like" courtesy of Queen V
We look forward to the up and coming event the Liberation Arts Festival!. The hardest thing in Philip's schedule is to keep up with his schedule.
Phillip is open for Commission work, or to find out more about his portfolio , projects and events please feel free to contact him directly through his facebook or merchandise link detailed below :
Artists Merchandise https://mrcronch.teemill.com/
https://www.facebook.com/pg/PhilipDownsArt/photos/?tab=album&album_id=1158903887455599
Artists Statement:
What does Animal Liberation mean to you? Educating the younger generation. Giving them the necessary facts and figures, as well as the encouragement, to help them realise that they can so easily change this world if they choose to, and thereby help us ALL evolve out of our current state of inertia and ignorance.
My personal part in the Animal Liberation Movement means connecting and empathising with the creatures that I paint, treating them with a dignity that they are denied by our farmers. I try to bear witness to their character, their suffering and their individuality, and by removing any barriers between 'us' and 'them' allow viewers to feel an empathy, which will hopefully lead to an understanding that changes hearts and minds.
DISCLAIMER: Links to information on sites other than those operated by FISHINABOX RECORDS are for your convenience only and are not an endorsement or recommendation of those sites. FISHINABOX RECORDS does not control or provide any content or information at these sites, makes no representation or warranty of any kind with respect to these sites or their content, and does not maintain, operate, or take responsibility for information provided. FISHINABOX RECORDS does not endorse and is not responsible for the accuracy or reliability of such content or information and any use thereof is solely at the user's risk.